Occupation Courts Extend Sa'adat Isolation After 775 Days – Take Action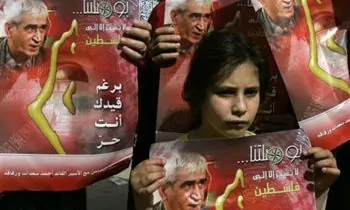 The Israeli occupation courts have, once again, extended the isolation of Ahmad Sa'adat. On May 3, 2011, at a hearing in Beersheba prison, the court issued an extended isolation order until November 3, 2011. Ahmad Sa'adat, General Secretary of the Popular Front for the Liberation of Palestine and Palestinian national leader, has been held in isolation since March 19, 2009 – for over two full years, over 775 days.
It is well-established that solitary confinement and isolation are dangerous and detrimental to the physical and mental health of prisoners. It is a technique frequently used against political prisoners, from the U.S.'s Guantanamo Bay and Communications Management Units, to Ben Ali's isolation cells in Tunisia, to the prisons of the occupation. Israel is a signatory to the International Covenant on Civil and Political Rights, whose articles 10 states that "All persons deprived of their liberty shall be treated with humanity and with respect for the inherent dignity of the human person." On the contrary, isolation cells deprive prisoners of human contact, recreation, and mental stimulation. Sa'adat is regularly denied family visits, newspapers, books, and information in Arabic. While Israel's utter contempt for international law is visible in every aspect of its behaviour, from its war crimes against Palestinians, to its denial of the Palestinian right to return, to its apartheid regime targeting Palestinian citizens, the situation of Palestinian prisoners is a glaring example of Israel's flouting of international law and human rights standards.
Weiterlesen: http://freeahmadsaadat.org/isolationmay4.html